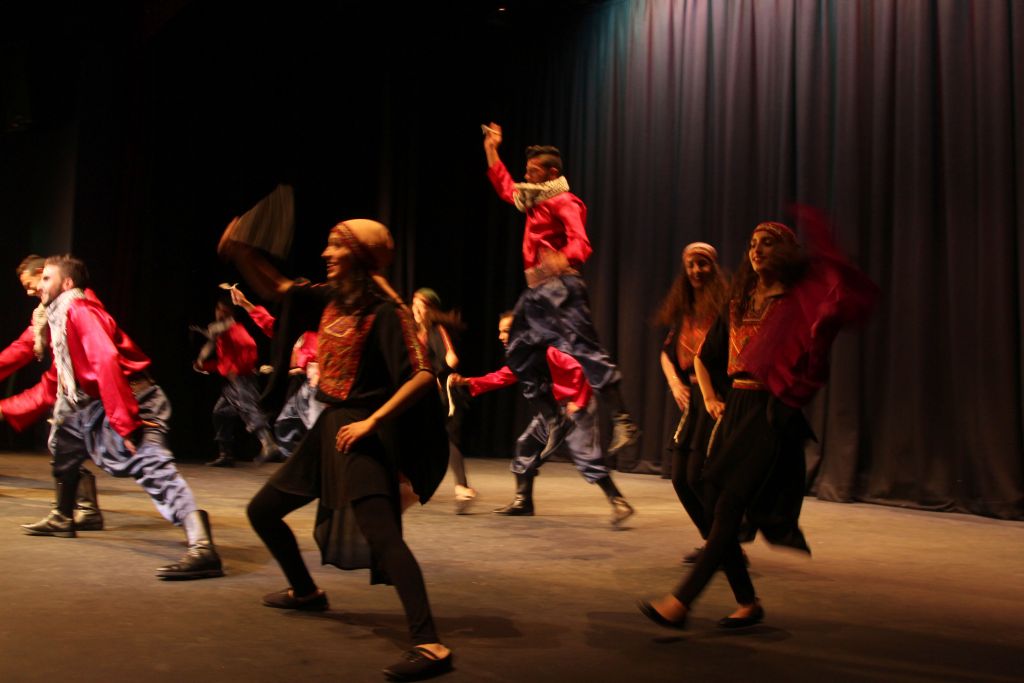 Dabka, the traditional Palestinian folk dance, has been a feature of Lajee's work since our creation. Weekly Dabka lessons are led by our Dabka coach Nasim Abu Amsha, who runs two programs for different age levels and abilities.
Our main Dabka troupe have been together for many years since they were young children, and now range in age from 15-18 years old. They perform regularly at events around the area of Palestine today referred to as the 'West Bank' and have also toured and performed internationally. The Troupe has performed in Egypt and Syria, and participates in a bi-annual cultural tour to the UK which also features photography exhibitions and film screenings. Our 2008 and 2010 UK Cultural Tours included dance workshops with British schoolchildren and public performances. On both UK tours, in the region of 3000 people attended our public events, and collaborative workshops. The next planned UK Tour will be in 2012 and we are actively seeking people to help support this project whether through fundraising, organizing events and workshops, or helping with logistics. If you would like to help in any way or find our more info about Dabka at Lajee please contact us as: info@lajee.org
Our second group of young dancers are children aged from 6-10. Mostly new to Dabka, they are keen participants in their weekly workshops and with more experience and expertise they will also begin to perform publicly. Many groups, organizations and individuals internationally have supported our Dabka work.
Amongst these, are: INTERPAL, Anna Lindh Foundation, Dove and Dolphin charity, HOPING, Halifax Friends of Palestine, Sheffield PSC, Discover Palestine, and many more. Dabka at Lajee, as with all our projects, involves both male and female participants working together. Music includes many traditional and some contemporary Palestinian and Arab songs, and our style fuses Palestinian and Syrian movements together. Many of the dances are themed around stories of the children's lives in Aida Camp and wider refugee history – in this context our Dabka, much as with all our cultural work, becomes a collaborative production of communication, storytelling, and defense of Palestinian rights.