The Lajee Gym, ACLAI Palestine, was established in 2018, between Ainle O'Cairealla'in and Salah Ajarma, during Ainle's visit from Ireland to Palestine. He saw an opportunity to educate and integrate physical training and athletics into everyday lives of the youth and residents of Palestine, as physical training and health are scarce. ACLAI is an Irish gym, founded by Ainle; ACLAI means "fit", and so came the name ACLAI Palestine. The aim of the gym is to provide physical health for refugees in the Bethlehem camps.
ACLAI Palestine officially opened in February 2020, with multiple training sessions between the Irish trainers and the Palestinian coaches to work in the gym. The program began with 5 coaches, all of whom have some background knowledge and physical training before being chosen for the program. In June 2020, the first 2 groups of participants joined the gym, comprising of 12 participants and 5 coaches. The participants and coaches worked with the Irish team for 2 months, training and learning new skills and techniques. This first training session served as a marking point to ensure the coaches are ready to take over the gym program. In September 2020, the Palestinian team launched the program and opened enrollment to select residents within Aida camp. There were 4 groups of participants, comprising of 24 who were all women. These women trained for 2 months between 2 female coaches.
Due to COVID-19 increasing in 2021, the gym was closed for the year and reopened in 2022. Training resumed with 5 groups of women participants and 1 female coach, as well as another group of men with another male coach. The 43 current participants in the gym program range between the ages of 14 to 60 years of age, and work with coaches on basic movements and flexibility. The goal of the gym in the near future is to open enrollment to all Aida and Al-Azza camp youth and residents so all can benefit and train in the gym at free of cost. Plans are to include new gym equipment, add yoga classes, and exercises for pregnant women during different stages of pregnancy.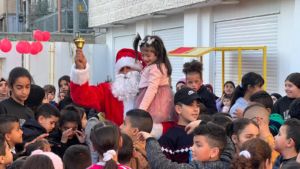 December 2022 Lajee Center staff, board, volunteers, members, and wider community would like to wish our friends around the world
Read More »