The Lajee Center established the first public library within Aida Camp in 2000. Lajee began purchasing story books, educational books, internationally known and recognized poetry and novels, as well as short story books for children. The Lajee Library began to grow with workshops and sessions with the children and adolescents of Aida camp. These sessions and workshops include reading stories and holding discussions about the book that was read, arts and crafts related to the stories, in addition to a monthly book club. In general, the Lajee Library focuses on expanding knowledge and culture to children of various age groups, through reading and discussion sessions with children, as well as discussions of literary works with young adults all year round. In addition, there are courses to learn English, drawing and painting lessons, and handmade arts and crafts workshops, as well as many other programs and workshops that help the children and young adults of the camp recognize and establish their talent and improve their skills.
Within the last 5 years, the library group has held educational and cultural workshops with hundreds of children and adolescents. Recently, the library staff has been training with the Tamer Association with professional psychologists on the well-being of the children attending the library and staff, by training the staff on how to recognize and work with children with psychological or emotional trauma through stress-relieving tactics via music and arts. The Lajee Library staff has held private workshops with the children of Aida dealing with psychological and emotional trauma and stress with concentration on how to relieve their stress out via reading books, playing instruments, music, Dabka/dance, in addition to other forms of art. Despite Lajee's determination and efforts to minimize the children's trauma through these activities, the children and their families are constantly reliving these traumas and stressors with the daily Israeli attacks on the Aida camp.
The Lajee Library has worked with hundreds of children and young adults within Aida camp and its neighboring areas with respect to the cultures surrounding them. Currently, the Lajee Library cannot meet all of the requirements and needs of the growing community, especially the needs of the young adult participants. That is why our goal is to expand our resources and obtain more tools and instruments for learning, such as computers and e-learning applications and e-books, so our participants can grow with the changing environment and have access to all their technical needs.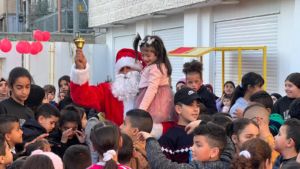 December 2022 Lajee Center staff, board, volunteers, members, and wider community would like to wish our friends around the world
Read More »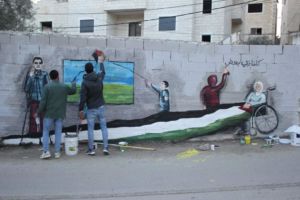 The Lajee Center's Library Kids Day Events for March-April Palestinian Kids Day 4/5/2022 Among the many rights of children which
Read More »

We want to take this opportunity to reflect on the past year, a year which has been marked by difficulties for all of us.
Read More »