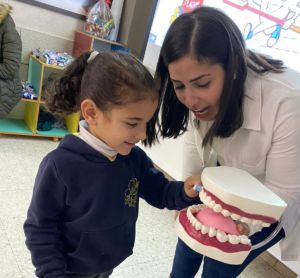 Dental Health Day in Zahrat al-Yasmeen
Lajee's Zahrat al-Yasmeen Kindergarten aims to support children holistically – providing not only for their education, but their emotional and physical health as well. On February 13, the kindergarten program held a dental health day for the children. Dr. Shorouq Asaad, a local dentist, came to teach the kids how to keep their teeth clean and healthy. She showed them the correct way to brush their teeth, and they did an activity to learn which foods are good for their teeth and which may harm the health of their teeth. They also showed a small video about visiting doctors, with the aim to decrease fear children may feel when they go to visit the doctor. The video and the interaction with Dr. Asaad helped the kids to learn that doctors want to support them and are there to help if they have pain. Dr. Asaad gave each child a tooth exam and provided a report and recommendations for dental health to their family.
Zahrat al-Yasmeen gifted each of the kids a toothbrush and toothpaste. Kindergarten Director Magi Fatoulah says that the kids were very excited about the day and came the next day reporting about brushing their teeth. Magi says the kids are still speaking about this topic with their teachers and their family. Magi emphasizes that the aim of the Zahrat al-Yasmeen Kindergarten is to "take care of our kids in everything" and this day was part of that mission.